The importance of interior design cannot be overstated, as it plays a crucial role in creating beautiful and functional spaces that reflect our client's personality and lifestyle.
So what exactly constitutes good interior design and how can it enhance a homeowner's life?
What are the integral, foundational components of a well-designed space? Is there such a thing as a perfect balance between form (the pretty) and function (the gritty)?
What is Interior Design?
We believe interior design is the art of creating aesthetically pleasing and purposeful living areas for our clients.
It's about transforming an interior space (or sometimes exterior) into something more than just four walls and a ceiling—it's about creating a home that reflects their personality, lifestyle, and values.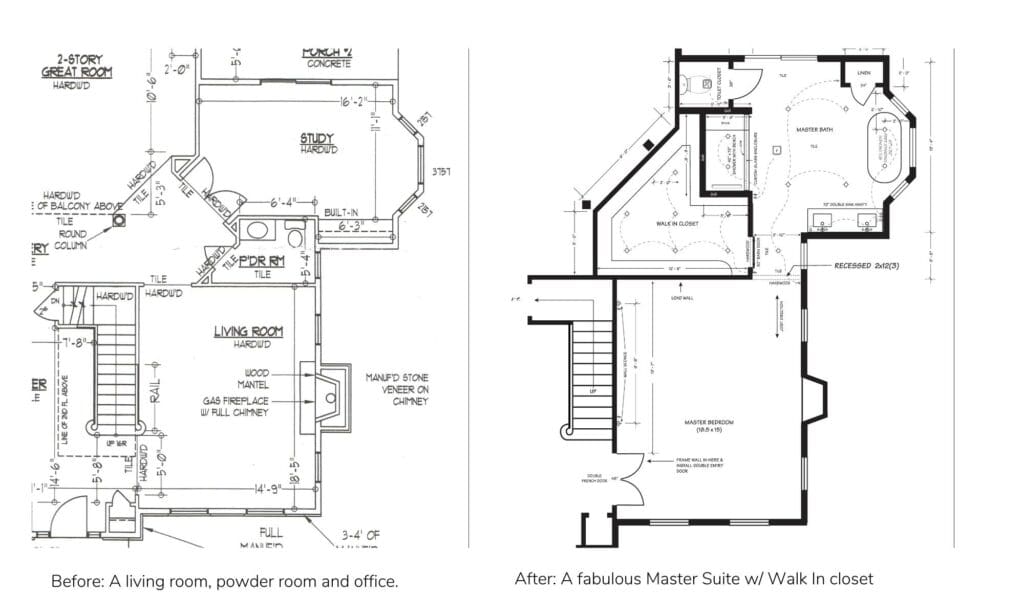 THE ESSENTIALS: PLANNING & LAYOUT
Good interior design starts with a well-thought out plan and drawings, especially if renovations will be happening. Architectural design outlines the rough in work such as electrical, plumbing, new floorpan configurations, as well as cabinetry specifications.
Often old floor plans are completely rearranged and the new plan has to specify what the changes are (such as removing a wall) and what new components will be added (such as a support beam or extra windows).
Projects that don't require renovations such as furniture and styling projects still need a detailed floor plan design outlining furniture placement and size.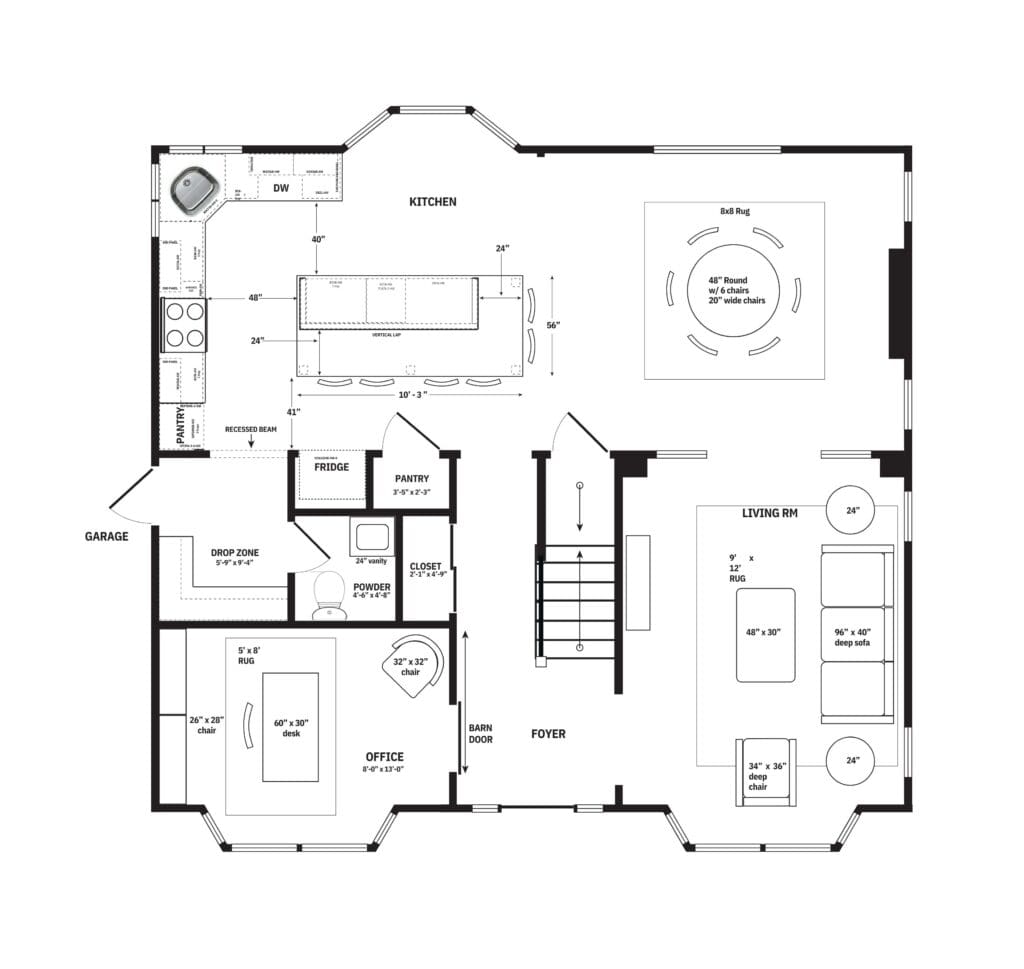 Since we operate as an interior design build, our architectural design and interior design flow together into what we classify as our interior design or design.
Every detail needs to be considered when designing the space, from electrical wiring to plumbing to framing and tile work. We believe lighting is essential to any design and can totally change the look and feel of a room.
Wall sconces around mirrors in bathrooms can create ambiance, picture lighting above paintings or photos hung on walls can highlight artwork, and task lighting under kitchen cabinets above countertops can provide the necessary illumination for tasks.
When we design kitchens, cabinetry design and specifications are incorporated into the layout drawings. Custom trim work like built ins, drop zones and accent walls are all designed into the layout of the space well before construction begins.
Accuracy is essential when planning the layout of your space, from a well thought out electrical plan to a strategic plumbing layout. Plumbing fixtures must be strategically planned out so as to avoid any costly repairs down the line due to incorrect positioning of pipes behind walls.
New framing must be properly mapped out, including showing where new support beams must be added.
Proper planning and drawings are the foundational elements for creating a beautiful, functional home upon which we add our finishes such as flooring, tile, fabrics, wallpapers, rugs, etc. bring your space to life.
Key Takeaway: Why is interior design important?

For us, good interior design requires meticulous planning, taking into account all aspects from electrical wiring to plumbing and tile work. Proper lighting can make a world of difference, bringing out the best in any space. Thoroughly thinking through every element can result in a stunning home tailored to a homeowner's lifestyle.
THE ESSENTIALS: COHESIVE FINISHES
Hard Finishes
Hard finishes or construction finishes are installed during the construction process. Things such as paint color, flooring, lighting, cabinetry, and tile would be considered hard finishes. They are essential elements to any design and can really make or break a room in their application.
For example, picking two different kinds of tile that could be stunningly beautiful on their own but when put together just clash or compete for attention. The same could be true for picking the wrong paint colors or flooring for your home. It is an expensive mistake to make!
But when you have the perfect combination of hard finishes together, they can just make a room sing.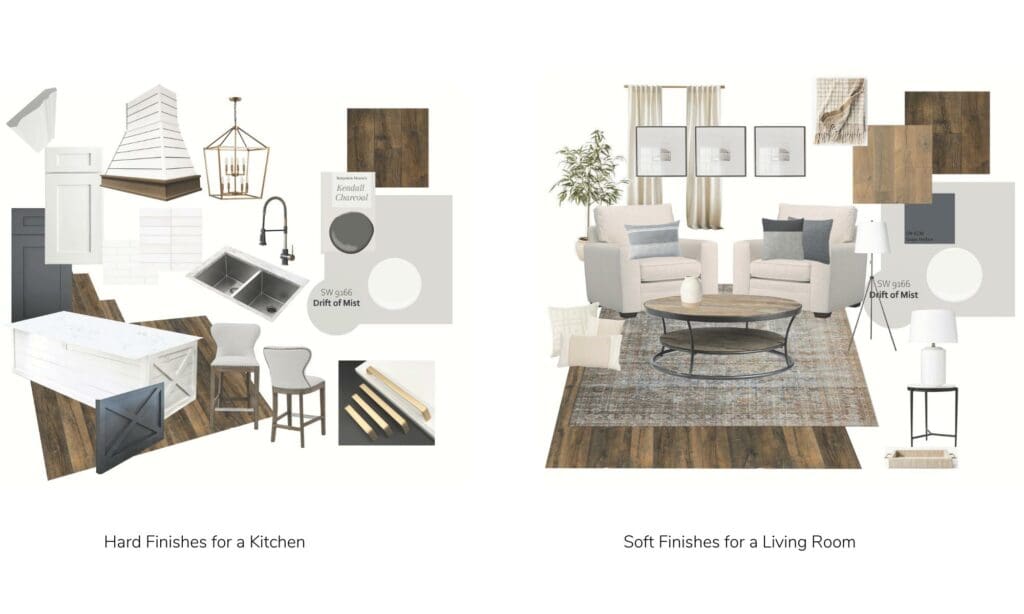 Soft Finishes
Soft finishes are like the icing on the cake—without them, your home would look incomplete. Furniture is one of the most important soft finishes, as it really helps to anchor a room, provide style and softness and can even help to define spaces.
Draperies are also important for creating texture and warmth in a room; and being very functional by adding privacy when needed. Pillows come in a plethora of forms, sizes, textures, shades and styles—all of which help to make an area inviting and cozy.
Finally, decor items such as artwork and accessories bring personality into any room while helping tie together design elements from other parts of the house.
When selecting soft finishes for your home interior design project, it is essential to consider both form and function. Furniture should be comfortable yet match with existing pieces; draperies should provide light control while coordinating with wall color; pillows should be cozy and stylish; artwork should reflect personal taste but fit in with the overall style of the room.
Achieving harmony between practicality and aesthetics is essential to create a living space that you can enjoy for years.
Soft finishes, such as fabric and wall coverings, can help bring a room together in ways that are both subtle and striking. Color and lighting offer the opportunity to further enhance the beauty of any space with strategic placement of hues or illumination.
THE ESSENTIALS: COLOR & LIGHTING
Creating a home that looks great requires careful consideration of color and lighting. Paint colors can make all the difference in how a space looks and feels. Lighting can be used to establish the ambience of a room while also serving an important purpose.
The use of color theory is essential when selecting paint colors for any space. Color theory takes into account how different hues interact with each other, helping designers pick shades that work together harmoniously rather than clash against one another.
It's important to consider what type of feeling you want your room to evoke before choosing a palette—warm tones like reds, oranges, and yellows often give off more energy whereas cool blues or greens will provide a calming atmosphere. Using this knowledge when picking out wall colors ensures that your space looks cohesive instead of chaotic.
Lighting is just as critical as color when designing any interior space; good lighting not only adds ambiance but can also be used strategically to highlight certain areas or objects within the room such as artwork or furniture pieces.
Different types of light fixtures offer various effects—natural daylight provides brightness while dimmers allow you to adjust intensity levels depending on what kind of mood you're going for at any given time.
Task-oriented lights such as recessed spotlights are great for illuminating specific spots without taking away from overall aesthetics—they're perfect if you need extra illumination over counters or desks without having bulky overhead fixtures hanging down from above.
Color theory and lighting are important aspects of interior design that can help to create a beautiful space. Accessorizing and decorating offer the perfect finishing touches for any room, allowing homeowners to customize their home in ways that reflect their personal style.
THE ESSENTIALS: ACCESSORIES & DECOR
Completing an interior design project with accessories and decor is the final touch to create a cohesive, balanced look. We believe it is an important step in making a space look complete and put together.
With accessorizing, you can add personality to your home while also creating balance and harmony with colors, textures, shapes, and sizes.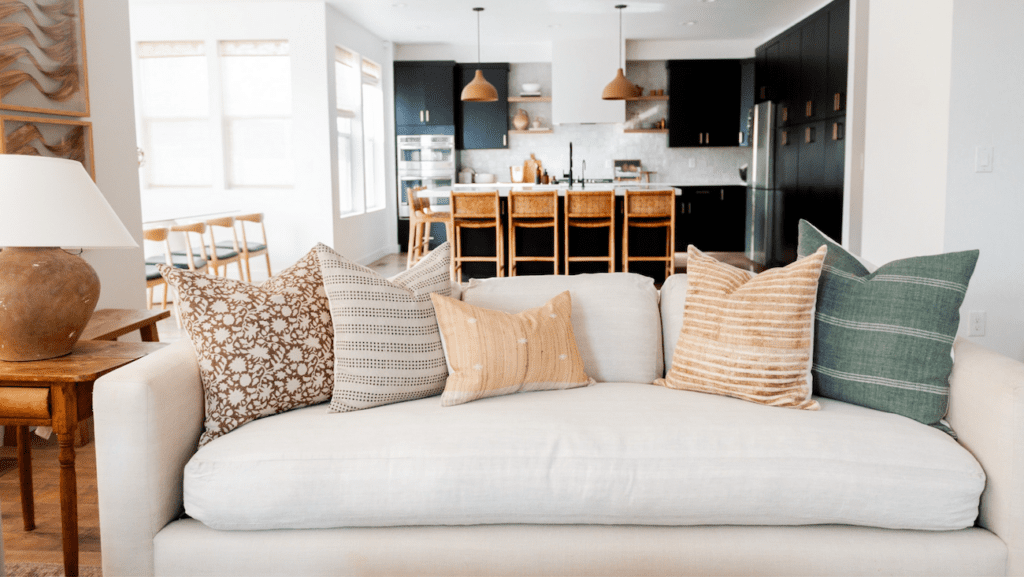 Textiles and upholsteries are another great way to bring texture into any room; whether it's rugs on hardwood floors or throw pillows added onto couches/chairs – textiles will instantly make a living space feel cozier while still maintaining its stylishness factor.
Don't forget about window treatments either—curtains/drapes can really pull together an entire look by adding warmth and privacy if needed (plus they come in so many fun patterns).
Finally, plants and flowers can brighten up any corner and bring life to even the smallest spaces. Plus, nothing beats fresh cut flowers and plants to really add some color and freshness to a room!
Key Takeaway: Accessorizing is the key to creating a beautiful, cohesive interior design.

Experienced designers can help you choose lighting fixtures, textiles and small details that will add personality while still maintaining style. With these thoughtful touches, your home can be transformed into something truly special.
The Benefits of Interior Design and the Design-Build Approach
So why is interior design important? It is important in creating a beautiful, well-put together home. It's not just about the pretty things we see; there's so much more that goes under the surface that contributes to a good design.
We feel a well designed space with a proper layout, beautiful finishes and furniture helps to make a home, a home, and a great place where family memories can be made!
One of the benefits of working with an interior design build company is having an interior designer and builder who not only understand each other but have a deep knowledge of each other's craft. This type of "hive mind" approach ensures that all aspects of the project are taken into consideration during planning, from layout to hard finishes, soft finishes such as furniture and decorating.
Interior designers understand construction principles such as structural integrity, building codes, electrical requirements etc, while the builder understands how best to bring a designer's vision to life by creating beautiful yet functional spaces.
With their combined knowledge they can help homeowners maximize their space and make it one that is Instagram worthy!
Overall, working with an experienced team who understands both sides of the equation—form and function—helps create a beautiful home where everything works together seamlessly!
Key Takeaway: An experienced interior design build team can help homeowners maximize their space, select the best materials and finishes for longevity, and create a beautiful home that they can relax in and gather with family and friends.
Interior design is an extensive process that involves proper planning, layouts, rough in work, and hard finishes.
Soft finishes like furniture pieces and decor are also essential to creating a beautiful space. By understanding the benefits of interior design it allows homeowners to make informed decisions about their projects with professional advice and guidance for best results.
Ready to build your team? Contact us.